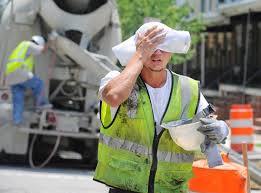 From the Education Sector to the Construction Sector if you employ outdoor workers do you know the risks involved and what procedures you need to put in place? We review the key Health & Safety risks to any employees working outdoors in the summer months to help you protect them from the risks of skin damage which can lead to developing skin cancer.
According to the Institution of Occupational Safety and Health (IOSH) each year in Great Britain.
Occupational skin cancer kills 60 people.
There are 1,500 new cases of non-melanoma skin cancer and 240 new cases of malignant melanoma caused by solar radiation exposure through work.
Working Outdoors – What are the legal requirements for employers?
The Health and Safety at Work etc. Act 1974 places a legal duty of care onto employers to ensure as far as reasonably practicable the health, safety and wellbeing of their employees whilst at work. It also states that employers must provide information, instruction, training and supervision to ensure the health and safety of workers.
If your employees are required to work outdoors and are at risk of exposure from the sun, it is important that employers assess the risks, put control measures into place to reduce the risks and educate their employees about staying safe whilst working outdoors.
How to reduce the risk to workers
To reduce the risk to workers, there are a range of protective measures employers can implement which include:
Train workers about the dangers of sun exposure and the importance of sun protection.
If possible, reschedule outdoor work to be carried out earlier or later in the day.
Ensure workers always wear a top to protect against exposure.
Encourage workers to take their breaks in the shade.
Encourage workers to drink plenty of water to avoid dehydration.
Encourage workers to check their skin regularly for unusual spots or moles.
Do employers need to provide employees with sunscreen?
There is no legal requirement for employers to supply sunscreen to their workers, however, we all know that sunscreen offers protection against the risk of burning and can reduce the likelihood of developing skin cancer.
To identify who is responsible for supplying sunscreen depends on the risk assessment. If the risk assessment states that employees must wear sunscreen, then the employer needs to provide it.
For practical advice and support to help protect the health and safety of your workers, contact our legally qualified team of Health and Safety Consultants today.