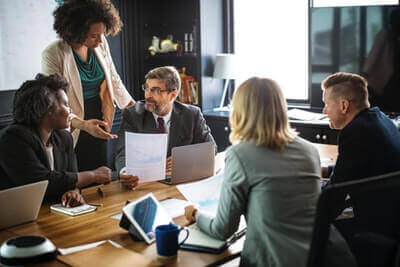 Many companies operate by hiring employees that they send to their client's sites instead of the traditional workplace of an office or on their own site. It's important for companies to ensure they send the right calibre of workers to their clients to maintain that positive relationship and avoid their clients going elsewhere with their work. Companies will want to ensure the staff they are sending to their clients site represent them well in terms of work ethic, capabilities and attitude. This may also applicable where you recruit someone specifically to work on behalf of one of your client's accounts. We review the issues surrounding SOSR Third Party Pressure and provide essential advice that employers need to be aware of.
What should and shouldn't you do?
So what happens in a situation where your client tells you they are unhappy with the worker you've sent to them? Of course you could consider the disciplinary process but what happens if the client isn't satisfied with a warning and wants you to remove them from their site? What happens when you have nowhere else to send the employee or the employee won't change their attitude or the problems highlighted by your client? Sometimes the client's request might even be unreasonable! However this still leaves you with a predicament…if my client doesn't want them and refuses their entry on site, where does that leave you and their employment?
Remember, you'll still need to follow a fair process if you're going to have to let the employee go and tribunals are unlikely to accept a simple "the client doesn't want you on site anymore so we're going to have to let you go".
SOSR Third Party Pressure | What not to Do
Do not request that the client removes the employee from their site as an 'easy way out' for your own dissatisfaction with the employee for whatever reason. This can land you in hot water with the tribunal as they'll see through any "set ups". Check your managers aren't in cahoots with the client too!
Do not advise the client to request the removal of the employee if they bring any conduct or capability issues etc. to your attention. The request has to genuinely come from the client and not be seen to have been influenced by you.
Do not agree or conclude with the client that the employee will not be returning to site. Following a genuine request from your client, you'll need to go through some processes that aren't predetermined. Tell them you'll remove them for the time being, if that's what they've asked, and you'll revert back to them after making some enquiries.
Don't just take one person's word for it – make sure the person asking for the employee's removal has authority to do so!
If you're not careful, the above actions could have financial impacts for you and ruin the fair procedure you need to undertake. Make sure your management are aware of how to treat such requests and what not to do.
The Correct Process to Follow
1. Ask your client to put their request in writing from a person with authority to make the request, stating when they wish the removal to take place and outlining the specific reasons for the request. Some clients might refuse – contact the advice line for advice.
2. Remove the employee from the client's site and commence investigations. The employee will be on paid leave at this point (unless you have alternative work for them).
3. You should ask the client if they will reconsider their decision; putting forward any mitigation the employee gives (such as an apology!).
4. If your client won't reconsider then check if you have any alternative work or sites you can move the employee to.
5. Are there any performance or disciplinary issues you need to consider? Run this process alongside this current one.
6. If there are no other options it may be then that you need to dismiss the employee. You'll have to pay them notice pay even though they can't work it, unless you can show they've committed Gross Misconduct.
During the process you need to be able to show that you have acted 'reasonably'.
SOSR Third Party Pressure | Some take away points
Even if your client's reasons seem unfair, this does not automatically mean that the dismissal is unfair. The focus is squarely on the question of whether or not it was reasonable for you as the employer to dismiss given the circumstances you were given.
Where the client's position seems to cause injustice, the tribunal must consider whether or not the employer did all that it could to avoid or mitigate that injustice. It may be necessary for the employer to "pull out all the stops".
If the employer has done everything that it reasonably can to avoid or mitigate the injustice brought about by the third party's stance, most obviously by trying to get the third party to change its mind and, if that is impossible, by trying to find alternative work for the employee, but has failed, any eventual dismissal will be fair. The outcome may be unjust, but is not the result of any unreasonableness on the employer's part.
Your client cancels the contract with you because of the employee
In this situation, it might be that TUPE applies! If your employee is "assigned" to that contract, no matter where the client takes their business, it may be possible that your employee is entitled to follow and be employed no longer by you, but by whoever they give the contract to! Check in with the advice line for more advice if this occurs.
Discrimination
Be wary if the reason for the removal relates to any forms of discrimination based on your employee's protected characteristic as you may need to tread even more carefully.
Get in touch with our Employment Law team today if you need advice and support regarding SOSR Third Party Pressure and we can talk you through the process step by step.