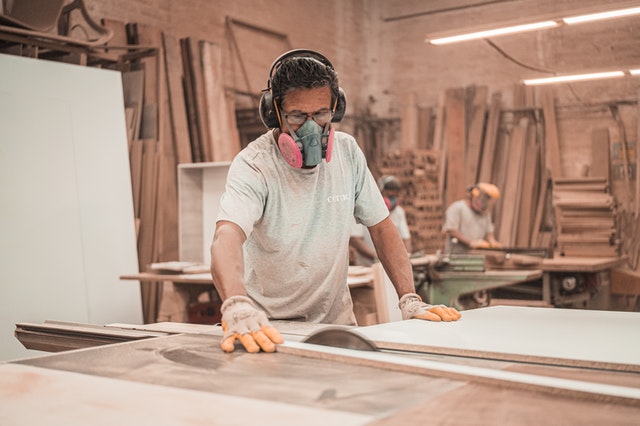 Staring on Monday 4th October 2021, HSE Inspectors across England, Scotland and Wales will be targeting construction firms to check that their health standards are up to scratch. Sites of all types and sizes, from domestic refurbishments to major commercial new builds will be visited to check that appropriate measures are in place to protect workers' lung health from exposure to construction dust.
Construction Dust – Dust Kills
Dust particles can be 100 times smaller than a grain of sand. You don't need to see them to breathe them in. Once in your lungs, dust will start causing damage.
Exposure to dust can lead to severe breathing difficulties and lung diseases that can ruin lives and cause an early death. It can take years before the damage is visible and by then it can be too late. More than 3,500 builders die each year from cancers related to their work, with thousands more cases of ill-health and working days lost.
HSE Construction Sector Inspections
The HSE supported by the Health in Construction Leadership Group (HCLG) and Tier 1 industry contractors members will carry out more than 1,000 site visits to assess the effectiveness of measures in place to controls workers' exposure to respiratory risks from dust i.e. they will be focusing on respiratory risks and occupational lung disease, looking at the control measures businesses have in place to protect their workers' lungs from construction dust including silica, asbestos and wood dust.
The HSE Inspectors will be looking for evidence of employers and workers knowing the risks, planning their work and using the right controls. If necessary, they will use enforcement to make sure people are protected.
The HSE are looking to ensure that both businesses and their workers are thinking about the job from start to finish and to avoid creating dust by working in a different way to ensure that dust is kept down and to ensure that employers and workers are wearing the right protective equipment.
Whilst the main focus will be on health during the inspections, if an HSE inspector identifies any other areas of concern, including immediate safety risks, they will take the necessary action to deal with them.
Reducing the Exposure to Construction Dust
There is a legal duty for employers to prevent or adequately control worker exposure to construction dust. Ideally, you will eliminate workers risk of exposure to dust by good design and planning. Where this is not entirely possible, you should put measures in place to control dust and provide workers with appropriate masks.
Employees need to play their part and take responsibility for wearing a mask. A mask does not offer protection if it leaks. A major cause of leaks is poor fit – tight fitting masks need to be fitted to a person's face to be effective.
How to Adequately Control the Risks from Construction Dust
There are different types of materials used in construction including plaster, wood and silica-based materials such as stone, brick and concrete.
Tasks such as drilling and sawing these materials give rise to dusts which when inhaled may cause irritation, or more serious diseases such as asthma or lung cancer.
A Hierarchy of Controls
1. Eliminate the risks from dust by effective design and planning, for example, by using pre-cut materials.
2. Minimise the risks by using suitable control measures.
3. Wear an appropriate respiratory mask.
Reduce the Risk of Ill Health
The risk of ill health could be reduced to near zero levels by straightforward measures such as:
Preventing dusty work in the first place by purchasing pre-cut materials.
Dust can be controlled by wetting saw blades or applying on-tool exhaust ventilation.
Workers health protected by wearing a suitable respiratory mask.
Construction dusts may arise from drilling and sawing plasterboard, wood, brick and cement-based products. The risks can be reduced to near zero levels by consideration of the hierarchy of controls and simple, affordable techniques such as wetting circular saw blades when cutting or breaking stone or concrete, or on-tool extraction, for example when cutting wood.
Don't take risks when it comes to managing health and safety, get in touch with our team of Health and Safety Consultants today.