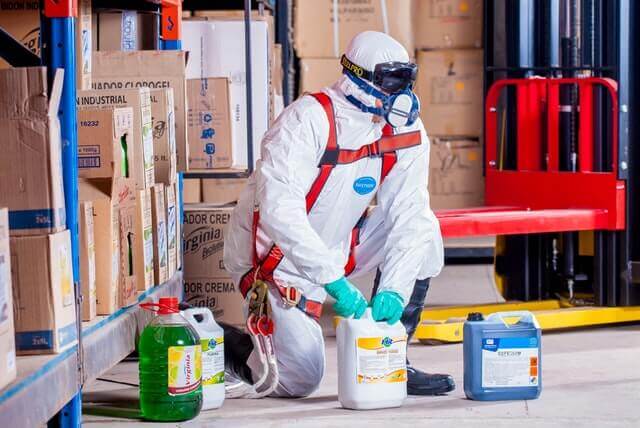 A recent tragic case highlights the importance of carrying out COSHH risk assessments before workers use any products. By law, your supplier must give you an up to date safety data sheet for a substance that is 'dangerous for supply'. If a substance is hazardous, employers should research to find out if safer alternatives are available.
The COSHH risk assessments need to identify control measures which must be implemented when using the product including any Personal Protective Equipment (PPE) required such as Respiratory Protective Equipment (RPE). Under no circumstances should an employee be allowed to decide what control measure they choose to implement or choose to ignore.
Death of floor layer after inhaling toxic substance
A supplier and a floor laying company have both pleaded guilty to breaching the Health and Safety at Work etc Act 1974 after the death of a floor layer in 2015. The 30 year old floor layer was laying a bathroom floor when he died after inhaling the toxic substance in the floor adhesive. His body was found by the homeowner.
The flooring adhesive contained Dichloromethane which poses inhalation risks and is a restricted substance under the Registration, Evaluation, Authorisation and Restriction of Chemicals (REACH) Regulation.
The company who supplied the adhesive, was found not to have ensured so far as reasonably practicable that the product supplied was safe to use at all times.The employee was found wearing a face mask but it was ineffective. The employer left the decision on whether to wear respiratory protection or the type of respiratory protection to employees.
The employer T Brown Group was fined £250,000 with costs of £23,936. The company which supplied the flooring adhesive Altro Limited was fined £500,000 with costs of £34,773.
Safe Systems at Work | Respiratory Protective Equipment (RPE)
There are some processes which require an individual to wear Respiratory Protective Equipment (RPE), which must fit tightly to the face to prevent against leaks. In order to protect the wearer against leaks, the RPE must be face fit tested for each person as each and everyone one of us will have a different size and shape face.
Wirehouse have a team of trained Health and Safety Consultants who can carry out Face Fit Testing on your employees to ensure that the mask that you have provided has a tight seal on the employee's face.
Our Consultants carry out Face Fit Testing using the qualitative method and we have a kit that we take to each premise in order to carry out the test. As part of this kit we use a test chemical that will determine if the employee's Respiratory Protective Equipment is suitable.
For further information or to book Face Fit Testing, contact us today on 033 33 215 005 or info@wirehouse-es.com