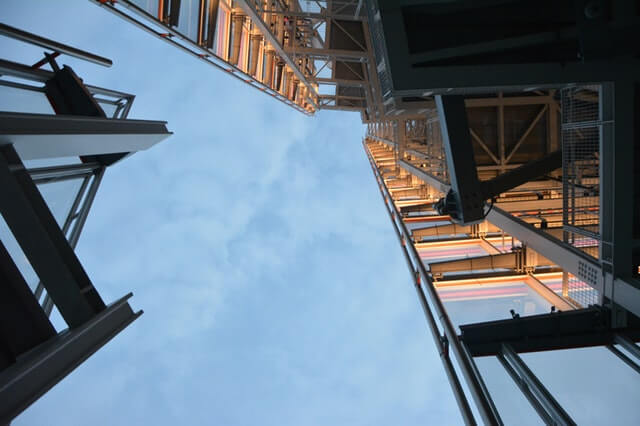 This article is aimed at companies who use a scaffold tower but may also be beneficial to those who hire contractors who potentially may use a scaffold tower as part of their work. The aim of the article is to provide guidance on what a scaffold tower is, addressing the standard governing scaffold towers and the duties/checks for managing and maintaining mobile scaffold tower safety.
Falls from Height
Falls from height is one of the leading causes for workplace fatalities accounting for a quarter of all worker deaths each year and the HSE reported that in 2019/2020, there were 111 workers killed at work which equates to a rate of 0.34 deaths per 100,000 workers. The number of workers killed is the lowest it has been, but evidence suggests Covid-19 may have impacted the figures and helped drive down the numbers. Many falls from height are preventable with the correct controls in place. It is important that any work at height is properly assessed and controlled.
Mobile Scaffold Tower Safety & Working at Height
Employers have a legal duty under the Health and Safety at Work etc Act 1974 to ensure that the employees' health, safety and welfare is protected as so far as is reasonably practicable.
The employers first duty is to assess the hazard of working at height. This is a legal requirement under the Management of Health and Safety at Work Regulations 1999. You have a duty to assess the risks that could pose a risk of harm to the health, safety and welfare of employees and implement control measures to reduce the likelihood of harm occurring to so far as is reasonably practicable.
At the outset of any task, the first question you should always ask is do I need to work at height? This is the first step in the hierarchy of controls, elimination, can you redesign the job to eliminate working at height by thinking about alternative ways that activities can be done without having to work at height. For example, cleaning windows with a water fed extension pole, or assessing roof work with a drone.
If working at height cannot be eliminated, think about the type of equipment that you can use. Think about the safest and most sensible piece of equipment available. Ladders and step ladders may not always be appropriate for all jobs and consider an alternative such as a scaffold tower this is known as a substitution, switching a piece of equipment for a less hazardous one.
What is a Scaffold Tower?
A scaffold tower is a free-standing piece of equipment with a working platform. A scaffold tower can easily be moved from one location to another. Scaffold towers are a popular piece of equipment for work at height because they allow the user to safely carry out their work with both hands. Prefabricated Access Supplier's and Manufacturer's Association (PASMA) have discussed that it has not always been clear previously what a mobile scaffold tower was and have advised that the new standard BS EN 1004-1 defines what a mobile scaffold tower is:
"It's a single bay structure with four legs.
Has wheels, not baseplates so that it is mobile.
May be supplied with outriggers or stabilisers.
Has one working platform at a time.
Is generally for shorter duration tasks and can be dismantled at the end of the day.
May be relocated or quickly dismantled if the wind exceeds the maximum limits.
Should not be used with personal fall arrest equipment.
Has dimensions that are fixed by the design.
Has a built-in means of access supplied with the tower.
Can be made of various materials, like aluminum or GRP (fiberglass).
Can be built at heights form 0m up to 8m outdoors and 12m indoors.
Can take a maximum wind load of 0.1kN/m2 (PASMA guidance is 17mph max)."
From 30th November 2021, BS EN 1004:2004 will be withdrawn and replaced with the new standard BS EN 1004-1, (-1) means part 1. Part 2 of the standard is still yet to be published which will cover instruction manuals because at present these are covered within BS EN 1298.
What will the new standard mean for businesses?
This new standard will enhance mobile scaffold tower safety. The standard now covers all towers from the ground up rather than just covering those towers from 2.5m onwards. The standard also now allows the manufacturer to have more freedom when building them meaning that if a consumer wants a tower less than 2m high they are now able to consider access from outside the tower if the strict rules on stability are followed.
The introduction of this new standard does not mean you need to discard all your old scaffold towers because they comply with BS EN 1004:2004, you are able to continue to use to them, but you must ensure that they are safe and still in good working order. It is good practice to consult with the manufacturer in the event that they have released any updated instruction on the scaffold tower.
However, any new scaffold towers that you purchase or hire must conform to BS EN 1004-1 please note this standard does not cover cantilever towers, high level towers, towers on base plates and low-level platforms as these are covered by other British Standards.
Any mobile scaffold tower you use must be suitable for the job that you are going to carry out and that adding sections to a mobile tower scaffold which is not included in the design, as instructed by the manufacturer, leaves user's exposed to the risk of harm occurring.
Therefore, it is always of vital importance to build mobile scaffold towers exactly in line with the manufacturer's instructions and that they should never be built in exceedance of the manufacturer's recommended height or redesigned. You should ensure that if you ever hire a scaffold tower that it is accompanied with the manufacturer's instruction manual as this document details the sequence of how the tower must be built. The manufacturer's instruction manual includes information on the bracing requirements and the height that it should be built to. The instruction manual should be given to those erecting the scaffold tower and to those who are supervising the work.
When you have been given a job where work at height cannot be eliminated you need to decide whether is it safe for a mobile scaffold tower to be used. You should firstly inspect the area where the work is to be carried out. Things to consider are:
Overhead powerlines.
Overhead obstructions.
The condition of the ground checking that it is firm, level, and free from potholes.
Position of the scaffold tower with regards to vehicle and pedestrian routes.
In addition, in accordance with section 169 of the Highways Act 1980, a licence is required if the scaffold tower is likely to encroach or be placed onto a highway (road, pavement, verge bridle way or a cycleway).
Mobile Scaffold Tower Safety | Designation Code
After you have assessed and determined a scaffold tower is an appropriate piece of equipment to be used for the activity you then need to choose the scaffold tower that is most suitable for the job. On the scaffold tower and within the instruction manual will be the designation code; EN 1004–3–8/12–A XXD-H2. The code means the following:
EN 1004 – Meets the Standard.
3 – Tells you the load. There is no class 1. Class 3 means 2kN (approx. 200kg). Class 2 means 1.5kN (approx. 150kg).
8/12 – The first number gives you the maximum height (metres) for outdoors and the second number gives you the maximum height (metres) for indoors.
AXXD – Gives you the access type. For example, A is stairway, B is stair ladder, C is inclined ladder, and D is vertical ladder. Where there is an X in the code this means that the type of access is not available but if they are all available it will be presented as ABCD.
H2 – Is the height clearance. This is the distance between the two platforms to enable the user to walk around safely and easily.
After you have checked the information and are happy that the selected scaffold tower is appropriate for the job you need to inspect it ensuring that it is not damaged and that all the parts are there in line with the instruction manual by having all the parts this will ensure that the tower is of adequate strength.
Once satisfied that the scaffold tower is in good working condition with all the parts it can be built. The person erecting the tower must be trained and competent to do so. The most recognized standard for erecting and dismantling scaffold towers is the PASMA Towers for Users training course; this is a one-day course. After successful completion of this course the certificate will last for 5-years. In addition to the users, there is a PASMA training course on Towers for Managers; this is a one-day course. More information about either of the course content can be found on the PASMA website.
Safe Systems at Work
One reason why a person may come to harm from using the scaffold tower is if the scaffold tower overturns. To minimise this risk, the scaffold tower should be erected on firm, level ground. Where this is not practicable, then the scaffold tower can be either tied to a solid structure or alternatively with bracing and outriggers used for stability. However, the individual securing the scaffold tower to a solid structure must have the competence to do this and be trained on how to tie in; please note the tying of scaffold towers to a structure is not covered in the standard courses by PASMA despite this PASMA do offer a Tower Specialist Course for delegates to attend once they have completed all the other modules for example Towers for Users. The Tower Specialist Course does discuss the tying of scaffold towers. Also, it is important to refer to the manufacturer's instructions for tying in and if you are ever unsure to consult the manufacturer of the tower scaffold.
Brakes must be applied to the scaffold tower's wheels to prevent it from moving when in use. After a tower has been erected in line with the manufacturer's instructions then they must be inspected, and details of this inspection recorded. Then, after the inspection has been carried out and if no defects have been identified the scaffold tower can be used. The persons using the tower should have an understanding of the dangers and precautions to take when using it.
Personal fall arrest equipment should not be used when using mobile scaffold towers because when a person falls attached to the fall arrest equipment this could lead to the tower overturning endangering the lives of the users and those within the proximity of the tower.
Safe Moving of Scaffold Towers
If the job requires working at height to be undertaken at different locations on the site, then under no circumstances should the scaffold tower be moved with persons or material on it and/or in windy conditions. The scaffold tower should be reduced to a maximum height of 4m and carefully moved by hand by either pushing or pulling. Prior to moving the scaffold tower a check of the route that you are planning to take should be carried out to ensure that the ground is firm, level and free from obstructions and holes, in addition to checking the ground you must ensure that there are no overhead obstructions including powerlines. Where it is identified that it is not safe to move the scaffold tower the tower must be dismantled by a trained, competent individual and re-erected in the correct position.
Once the scaffold tower has been moved to its new location you don't need to do a new inspection and a report, the only time you are required to do a new inspection and a report is when any of the components or guard rails have been removed. A pre-use check should be carried out to ensure that the tower has been put back/built correctly.
If the working platform on the scaffold tower is 2m or more it must be reinspected at intervals not exceeding 7-days.
Mobile Scaffold Tower Safety | Storage
When the scaffold tower is not currently in use it should be stored in a clean and tidy environment where they can easily be accessed. Scaffold towers should be stored securely with all their components and parts to prevent the risk of the scaffold tower getting damaged.
Scaffold towers should always be dried before being stored. Storing a wet scaffold tower could lead to the deterioration through mildew and decay.
When storing scaffold towers consider where they are going to be stored. Can they easily be knocked or have their components or parts easily lost. Scaffold towers should be stored away from fire exits and away from fire extinguishers and call points to ensure that these fire measures and routes can quickly and safely be accessed.
Regular Inspections & Safe Working Practices
Overall, to ensure that scaffold towers are used correctly and not going to cause harm to those using them a member of the management team within the company should monitor that the inspections are being carried out, that the training is still up to date for those erecting and dismantling and also for those using them, and lastly that the scaffold towers are being stored correctly when not in use.
To conclude, you must ensure that any scaffold tower you purchase or hire conforms to BS EN 1004-1 from November 2021 onwards or if it is an existing scaffold tower that is conforms to BS EN 1004:2004. The site of where the scaffold towers to be used should be inspected prior to use to ensure that the scaffold tower that you choose to use is appropriate and that the job can be completed safely with the use of a scaffold tower. Find further information on mobile tower scaffold safety on the PASMA and HSE website.
By adhering to the manufacturer's instructions for the mobile scaffold tower, having employees properly trained in the erection and dismantling of scaffold towers and taking reasonably practicable control measures you are able to save lives by minimizing the risk of a fall from height and in the long run this can also save you costs.
Do you need guidance surrounding mobile scaffold tower safety in your business? Get in touch with our expert team of Health and Safety Consultants today.
Article written by Angela Laycock, Wirehouse Health and Safety Advisor.
Download Our Risk Assessment Template
Our 5x5 Risk Assessment template helps you quickly identify any risks via our risk rating calculator