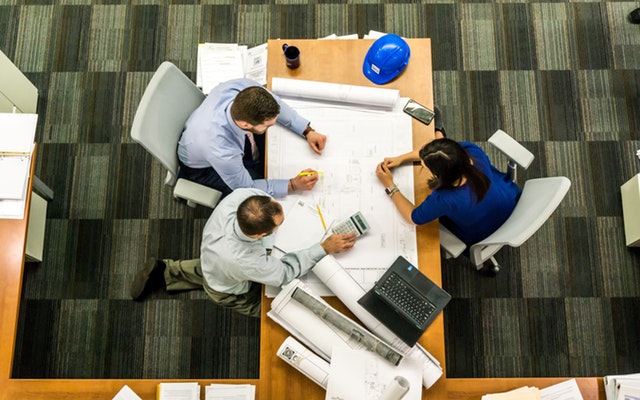 Almost every business has some office work, and many tasks involve the use of computers. It should also be recognised that many people may work out of recognised business hours and work from laptops, tablets and phones. The Cambridge Dictionary defines business hours as "the part of the day when a business is usually open". Some rudimentary things can go a long way towards office safety and general work safety – like effective communication and making sure people are setting their workstation up properly wherever they are working.
Office Safety, General Hazards & Risks
Hazard = Something with the potential to cause harm
Risk = Risk is the likelihood that a person may be harmed or suffers adverse health effects if exposed to a hazard.
Some everyday hazards associated with office work include:
Repetitive work, like computer use, answering the telephone etc.
Sitting for long periods.
Badly designed workstations.
Lifting, handling and moving office equipment and supplies.
Tripping on objects on the floor or power cables.
Workplace bullying, harassment and occupational violence.
Work-related stress.
Making Office Safety a Priority
We have a comprehensive range of tools and guides to assess and control the specific risks in your workplace. For a complete guide to risk management and making office work safer, please discuss with one of our Health and Safety Consultants.
The Process of Risk Management
IDENTIFY – EVALUATE – CONTROL – MONITOR – REVIEW
Identify the hazards in your workplace.
Evaluate the risks associated with those hazards.
Control the risks.
Monitor and review your risk controls. Revise the controls if they are not suitable and sufficient.
Consultation with Employees
Engaging with your employees on health and safety issues can result in a safer workplace. It is highly likely that your workforce has a wealth of experience and an understanding of the workplace conditions. That is why consultation is important in the management of risk. In certain situations employers must consult about health and safety issues with employees and health and safety representatives (HSRs) if they have them.
The Health & Safety Executive (HSE) offer the following guidance:
Consulting with employees can have real benefits for your business, including:
Increased productivity – businesses with good workforce involvement in health and safety tend to have a better productivity rate.
Improvements in overall efficiency and quality and
Higher levels of workforce motivation.
Consulting employees about health and safety can result in:
A healthier and safer workplace – your employees can help you to identify hazards, assess risks and develop ways to control or remove risks.
Better decisions about health and safety – they are based on the input and experience of a range of people, including employees who have extensive knowledge about their own job and the business.
A stronger commitment to implementing decisions or actions – as employees have been actively involved in reaching these decisions.
Greater co-operation and trust – employers and employees who talk to each other and listen to each other, gain a better understanding of each other's views and
Joint problem-solving.
Primary UK Legislation
All employers have a legal responsibility under the Health and Safety at Work etc Act 1974 and the Management of Health and Safety at Work Regulations 1999 to ensure the health, safety and welfare at work of their employees. This is understood to include minimising the risk of work-related mental health issues as well as injury.
The Health and Safety at Work etc. Act 1974 (HSWA) covers all workplaces and says that an employer must do everything that is reasonably practicable to provide a safe and healthy workplace. The HSWA is supplemented by many statutes and regulations.
The phrase 'Reasonably Practicable' is fundamental in UK Health and Safety law. It allows those responsible for health, safety and welfare to balance the benefits of risk reduction against the time, money and effort required to achieve it.
Office Safety Duties
Examples of employer duties include:
For your employees, you must provide and maintain a working environment that is safe and free of risks to health, so far as is reasonably practicable. Employees may also include contractors and agency staff.
Give your employees the necessary information, instruction, training and supervision to enable them to do their work in a way that is safe and without risks to health.
Ensure that the conduct of your business does not endanger other people (including visitors, the public and other workers).
RIDDOR compliance (Reporting of Injuries, Diseases and Dangerous Occurrences Regulations).
Examples of employee duties:
Take reasonable care for your health and safety in the workplace. You must also take reasonable care for the health and safety of others who may be affected by what you do or do not do.
Cooperate with your employer about any action they take to comply with the Act or Regulations or workplace rules. For example, use equipment properly, follow safe work policies and procedures and attend training when required.
Do not intentionally or recklessly interfere with or misuse anything at the workplace to support health, safety and welfare.