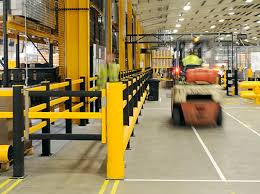 The HSE have recently announced that they will be visiting waste and recycling organisations throughout the country. The recycling and waste industry has one of the highest rates of workplace injuries and the HSE are proactively targeting their recycling sector site inspections to look at how health and safety can be improved to ensure the activities workers carry out are effectively managed and controlled.
Workplace Transport | Site Safety
One of the priorities the HSE has set for this sector is to reduce the number of people being struck by moving vehicles. Statistics published by the HSE state that there were 7 fatal injuries to workers in the waste sector during 2018 / 2019. 28% of these fatalities were due to persons being struck by moving vehicles.
According to the Workplace (Health, Safety and Welfare) Regulations 1992 Section 17 (1) "Every workplace shall be organised in such a way that pedestrians and vehicles can circulate in a safe manner". Under these regulations, a traffic route is defined as "a route for pedestrian traffic, vehicles or both and includes any stairs, staircase, fixed ladder, doorway, gateway, loading bay or ramp".
Does your business need health and safety support putting effective safety measures in place? Get in touch with the Wirehouse Safety Team today.
3 Key Safety Considerations
Safe Site – Carry out a site inspection to look at the design of the site and activities being carried out.
Safe Vehicles – Vehicles used in the workplace must be suitable for the purpose for which they are used and they must be maintained in good working order.
Safe Drivers – Drivers must be competent and have received appropriate information, instruction and training. Also a person's fitness to drive/operate a vehicle should be judged on an individual basis but the aim is to match the requirements of the task with the fitness and abilities of the driver/operator.
Any route that requires the movement of pedestrians, vehicles or machinery must be organised in such a way that it is suitable for people and vehicles to use them safely.
Effective Pedestrian Segregation
The most effective way of ensuring pedestrians and vehicles move safely around a workplace is to provide separate pedestrian and vehicle traffic routes. Where possible, there should also be a one-way system as this will reduce the need for vehicles to reverse. If pedestrians and vehicles are required to share a traffic route then there must be effective segregation between them including:
Clear markings on the ground highlighting the route for pedestrians and vehicles.
The use of barriers to physically separate pedestrians and vehicles where visibility is poor to the driver, to protect building entrances and exits and on corners of routes.
Implementing one-way systems.
Use of mirrors around the premises to enable the driver to have a better view of their surroundings.
Pedestrians to wear hi-visibility clothing.
Warning sirens on vehicles when reversing.
Eliminating the need to reverse.
These measures are some good examples of controls that can be implemented into workplace transport safety procedures and risk assessments.
Site Inspections
All organisations have a legal duty of care to their employees and others whilst on their premises. Employers should regularly review their workplace transport procedures to reduce the likelihood of a pedestrian being struck by a moving vehicle.
To conclude, have a look at your procedures for managing the movement of vehicles, machinery and pedestrians on-site and consider whether you have done all that is reasonably practicable to protect your employees and others on your premises from being struck by a moving vehicle.
Our Health and Safety Consultants offer guidance on issues surrounding workplace transport and can carry out site inspections to provide support and offer advice on supporting your organisation with the safe movement of vehicles and pedestrians.