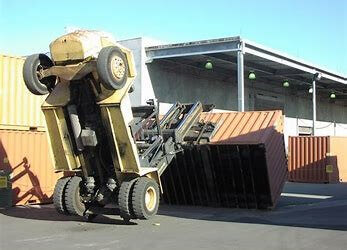 The number of serious injuries involving forklift trucks (FLT's) has increased by almost a third in the last year, the number of injuries has risen from 1,000 to 1,300 in the last 12 months. These aren't just minor matters, they are life-changing injuries involving crushed bones, amputations and deaths. Our Health and Safety blog provides practical guidance to help you get forklift truck safety right.
In addition, there have been 5,700 RIDDOR reportable incidents and 12 fatalities accredited to forklift trucks in the last two years and approximately five people are hospitalised every single day with life- altering injuries through accidents related to forklifts.
More than half (57%) of those injured by forklift trucks are pedestrians, although that number does include drivers who have stepped down from the vehicle and onto the ground floor.
(Source: Andy Cartwright FLT Technical Manager)
National Forklift Safety Month
This year's Safety Month is being held from 1st – 31st October.
It's the Forklift Truck Association's (FLTA) annual, month-long forklift truck safety campaign created to focus on the appallingly high number of forklift-related accidents and injuries.
Everyone's familiar with forklifts but few realise how dangerous they can be. As identified above, the 1300 forklift-related accidents each year, are 1300 too many.
Who Should get Involved?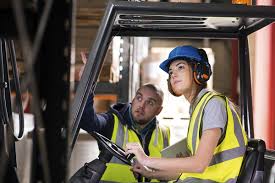 National Forklift Safety Month isn't just for forklift truck operators – it's for supervisors, managers and safety personnel as well as those on foot who work alongside trucks. In short, it's about taking up the challenge and, using the information that is on offer to make your workplace safer. Get your business involved today.
Get Forklift Safety Right | Key procedures to put in place
Safety is a multifaceted challenge and includes undertaking proper training.
Ensuring that the forklift is adequately maintained, ensuring that all the necessary checks are carried out thoroughly and regularly as well as making sure that the right machine is used for the right job. Forklifts must only be driven by trained and authorised drivers.
Consideration should also be given to the type of environment that a forklift is being used in. Being aware of the type of terrain on which you are using the forklift ensures that you can maintain the highest levels of safety at all time.
Operating a forklift safely means monitoring and understanding the dashboards on the truck. Many operators fail to spot warning signs which in turn can cause damage to a forklift and ultimately cause a safety concern.
Accident prevention – Pedestrians and vehicles should be kept separate, so far as is reasonably practicable. People must be well clear of all lifting and lowering activities.
Areas where visibility is poor, for example due to PVC strip curtains in doorways, should be improved and addressed on the relevant risk assessment.
If you would like more information on forklift truck safety please contact our expert Health and Safety team today for free, no-strings advice.