In this guide we establish an overview of Outsourcing HR and cover the following:
What are the benefits of outsourcing HR?
What are the Disadvantages or Alternatives to HR Outsourcing?
How Does Outsourcing HR Reduce Costs?
Is Outsourcing a Threat or an Opportunity for HR Teams?
To Outsource or not to Outsource HR?
What is HR Outsourcing?
HR is a growing area for businesses and no longer as simple as it once was.  It can include many functions such as Recruitment and Onboarding, Performance Management, Contracts and Handbooks, Learning and Development, business strategy and restructuring, disciplinaries and grievance management as well as rewards, wellbeing and payroll. 
But what exactly is HR outsourcing?  In its most simple format, it is an agreement between an employer and a third party to manage either some or all of the various HR functions.
There are four types of HR outsourcing in the main: –
Retained agreements with a HR Consultancy or Legal firm
Pay as you go agreements with HR consultants or an Employment Law solicitor
Software or self-service systems to manage different parts of your HR requirements
A hybrid of any or all the above
Ultimately, the aim of outsourcing your HR functions is to tap into and engage with experts in a cost-effective way to ensure your business or organisation is both compliant from an Employment Law perspective and to save time in dealing with HR matters.  Outsourcing HR can also be a benefit by helping retain staff and maintaining and improving employee satisfaction and engagement.
Becky Edwards is the head of advice at Wirehouse who provide outsourced HR for over a thousand companies across the UK says "Our consultants are experts in HR and have spent years learning and understanding the complexity of Employment Law.  We aim to deliver practical advice which suits each business or organisations needs'

Becky Edwards Head of Advice Wirehouse Employer Service
HR Outsourcing & Models
The models associated with outsourcing HR are wide and varied dependent on a business' stage of growth and/or the expertise their HR professionals have in house.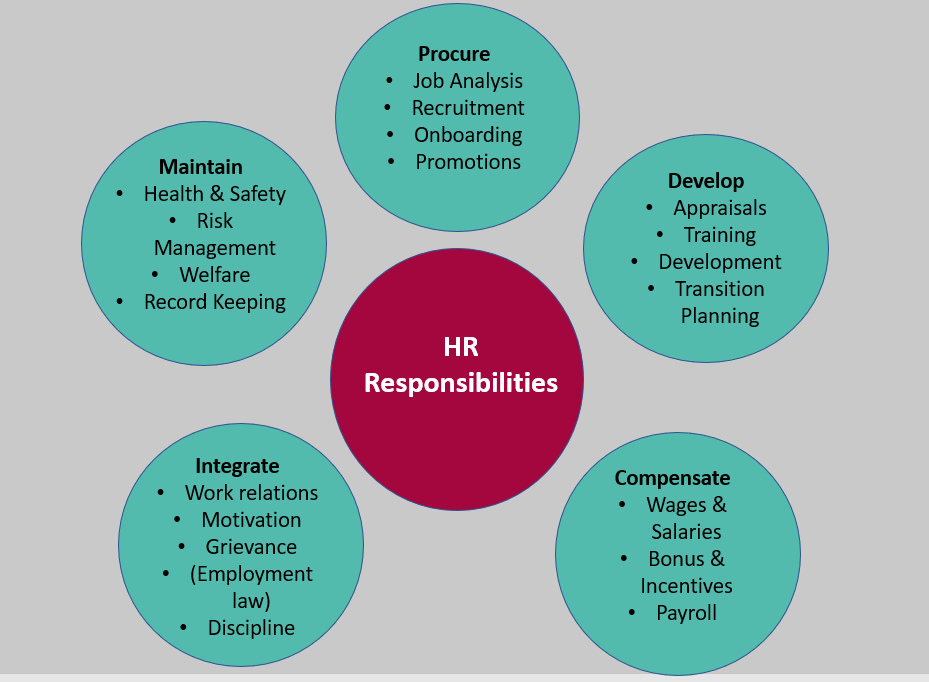 If we look at an example model of what a HR professionals roles might contain. We can see that it is a wide and varied skillset which it would be difficult to have expertise in every single area featured.
What are the Benefits of Outsourcing HR?
There are numerous benefits to HR outsourcing, but much will depend on your current business needs and your future strategy.
Below we have highlighted five major benefits of outsourcing
Time – by outsourcing some or all of your HR functions you will be saving time for staff within the company or organisation who could utilise this to focus on what you do best, and your core business needs.  This will help with efficiencies within your business and potentially help you achieve your business goals sooner.
Cost – alternatives to outsourcing HR could be to either employ your own team or develop your own software.  Both can be costly and will not always provide you with the scope of support you need.  By outsourcing HR and Employment Law, you tap into expert advice at a fraction of the cost of employing someone and depending on the model – you could pay as and when you need it, or have the security of access to ongoing support whenever required without the concern of the extra cost impact to your business.  Studies have shown that companies who outsource some or all of their HR functions save over 20% of regular expenses compared to keeping them all in house.
Risk – Employment legislation can be complicated and change frequently.  HR consultants have a duty to stay aware and fully up to date with the latest Employment Law changes and are tasked with ensuring your business or organisation is compliant and to ultimately avoid an expensive Employment Law Tribunal.  They will also ensure all your HR policies; Employment Law contracts and Employee handbooks are up to date to allow you to manage your teams effectively
Streamlining – by utilising self service or HR software, it can take away significant amounts of administration for your management team.  This means rather than focusing on mundane tasks, your managers can focus on driving performance from their teams and implementing strategy.
Managing and retaining staff effectively – having staff who take advantage can have a real corrosive effect on your teams and the moral of your staff.  Whether it is individuals who aren't performing how they should be, being absent from the business when not needed or simply doing things they shouldn't do.  Without tackling these issues, it can have an impact not only on your business productivity, but also the rest of the team.  By managing staff effectively and compliantly through HR consultants, you will hopefully improve productivity of problem staff and help to ensure harmony within the rest of your team.
What are the Disadvantages or Alternatives to HR Outsourcing?
Clearly there are many benefits to HR outsourcing, but there are some disadvantages.  The main challenge cited is often around a consultancy not being part of your business and understanding your internal challenges or company/organisational ethos.
Other considerations when it comes to HR Outsourcing is whether you will get full value for money.  Depending on the model you choose, you may find that you don't utilise all the services you are paying for, or you may only have a small number of staff (under 5) and therefore managing it in-house could be more cost-effective.  When deciding on whether to outsource your HR it is important to consider the following:
How you plan to use a HR consultancy
Your future business plans
Risks such as whether your business would be able to cope with something like an Employment Tribunal
Are you currently compliant and up to date when it comes to Employment legislation such as your contracts of employment?
Alternatives to outsourcing HR could be to retain the function in house.  This allows you to keep a level of control and understanding of what is happening within your business but could be more costly and potentially leave you exposed if you don't have the right expertise or individuals within your business.
Another alternative could be a shared services – so if you are part of a large organisation with various different business sections, you could create an internal HR hub and share the cost between businesses.  This can be cost-effective and can retain the control, however, it is often only cost-effective across large organisations with different sections or branches.
How Does Outsourcing HR Reduce Costs?
The single most important factor when businesses were questioned around why they outsource HR was cost.  As businesses grow, they realise they need further HR support and they can either continue to utilise staff without expertise internally (and have the risks associated with that) or employ a HR manager with the annual salary of around £40,000 that comes with that.  By outsourcing HR, businesses are often making a significant saving with some figures suggesting at least a 20% saving on ongoing costs. 
By utilising that experience and expertise of a HR consultancy or an Employment Law specialist you are hopefully mitigating the risk and cost of an Employment Law Tribunal.  Average costs for business in the UK of an Employment Law Tribunal are £8500.
Head of Legal at Wirehouse, Richard Lyons, says 'The cost of an employment tribunal is not just the legal costs and awards and compensation, it is also the intangible costs.  These include time out of the business, stress of dealing with the situation and the redirection of focus onto something that ultimately is not driving your business or organisation forward'
Who May Not be Suited to Outsourcing HR?
Not every business or organisation is suited to HR outsourcing.  Some small businesses who have less than 5 staff may not see the value of using a retained HR Consultancy as the ongoing costs may outweigh the benefits.  However, they do need to ensure their employment contracts are compliant and up to date, so may tap into HR outsourcing on a pay as you go scheme or for one off projects. 
Some larger businesses or organisations who have their own HR teams may also not see the benefit of outsourcing HR or even see it as a threat.  However, with some HR consultancies, they provide a range of services and often include some form of cover around Employment Law Tribunals and so tapping into this part of the resource can be hugely beneficial especially if you employ lots of staff and therefore the risk of an Employment Tribunal is increased.  HR consultancies can also potentially help with reviewing Employment Law contracts and handbooks, or they could just provide a sounding board of advice that can be useful due to their extensive knowledge and understanding of specifics within employment legislation.
At Wirehouse Employer Services, we understand that value is hugely important especially in these current times and provide a variety of HR consultancy packages to suit most budgets and needs
Is Outsourcing a Threat or an Opportunity for HR Teams?
Outsourcing should never be deemed a threat to a business and fundamentally it is there to either infill a gap or to compliment the current provision. 
There is often a varied skillset within a HR team, and they may not have the specific skills to produce legally compliant and up to date Employment contracts and handbooks or have the experience of managing and representing a business in an Employment Tribunal.
Therefore, if your business or organisation has a HR team, they may benefit from outsourcing HR with: –
The efficiencies of utilising self-service HR software
The 'black letter' law knowledge of a HR consultancy
Experience of drafting legally compliant Employment contracts
The security of some cover for Employment Tribunals
To Outsource or not to Outsource HR…That is the Question?
The reality is that most businesses or organisations will benefit from HR outsourcing.  Whether that is simply by creating efficiencies within a business or through the expertise you can access to ensure you are compliant and stay on the right side of Employment legislation.
The two ends of the spectrum in terms of staff size, probably have the most to consider.  Those companies with less than 5 staff and those organisations with their own large HR departments may feel they can manage without outsourcing.  However, most SME's (small to medium sized enterprises/businesses) will most likely benefit from choosing to outsource their HR and Employment Law needs.
If you think that outsourcing HR will be a benefit to your business, you need to consider the best model for your company, and your long-term strategy.  At HR consultancies such as Wirehouse they can provide fixed fee contracts, and so as you grow and develop as a business the costs remain the same, which in the current uncertain world could be hugely beneficial.
Those that may not feel outsourcing HR is right for them need to understand the potential risk it exposes their company or organisation to and if they are comfortable with that.  Some may feel they won't receive sufficient value, and if so, they should make that decision with a long-term strategy in mind and consider Pay as you Go options.