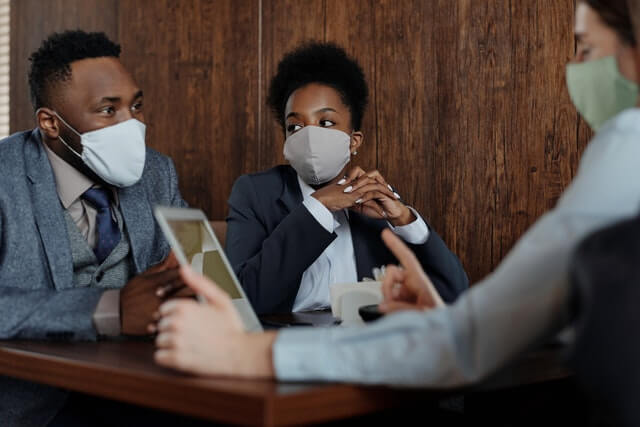 We review the recent case of a worker who lost her discrimination claim after stopping going to work over Covid concerns. She had claimed that her fear of contracting the virus was a 'protected belief' under the Equality Act after an employer withheld the worker's wages.
Background to Recent Covid Discrimination Claim
The claimant concerned, who stopped attending the workplace because of being scared of catching the coronavirus was not discriminated against when their employer subsequently stopped their wage an Employment Tribunal has ruled.
The claimant concerned had taken the decision not to return to work in July 2020, citing "reasonable and justifiable health and safety concerns" around Covid in the workplace. The claimant told a Manchester tribunal of their fear of passing Covid onto their partner, who was vulnerable and at high risk of becoming seriously unwell from the virus.
The claimant explained that they had made a protected disclosure in good faith and asserted their statutory employment rights about endangering their own health and safety wellbeing but others, which they reasonably believed to be serious and imminent. However, after informing their employer of their decision not to return to work, the claimant was informed that they would no longer be paid.
According to their statement, the employer told them that they did not accept they had a reasonable belief that returning to work would put the claimant and their partner in serious and imminent danger. The claimant argued that their fears around the dangers of coronavirus amounted to a genuinely held philosophical belief, which they described as a fear of catching Covid-19, and a need to protect themselves and others. As wages had been withheld, the claimant argued that they had suffered a financial detriment because of their philosophical belief.
Employment Tribunal Ruling
The Judge did not dispute those concerns and was satisfied that these were genuine. However, the judge ruled that a fear did not amount to a belief, describing it instead as a "reaction to a threat" and a "need to reduce that threat".
The Judge also described the claimant's concerns as "a widely held opinion that attending a crowded place during the height of the current pandemic would increase the risk of contracting Covid-19 and may therefore be dangerous".
The Judge explained that "Few people may argue against that. However, a fear of physical harm and views about how best to reduce or avoid a risk of physical harm is not a belief for the purposes of section 10 of the Equality Act," he said.
Advice for employers dealing with Covid discrimination claims
In summary, while an Employment Tribunal's ruling is not binding on other courts, this ruling was an indication of how future cases might be treated. A different court may well find differently on a different day.
Nevertheless, the ruling is indicative of the way that this matter is likely to be treated and will give some comfort to employers who are faced with similar accusations from their staff. Both discrimination and Covid are serious matters however, this case suggests that fear of one does not necessarily lead to the other. This will help relieve at least some of the stress faced by already overwhelmed employers.
To get specific advice regarding discrimination claims/ need an employment tribunal service and other HR issues tailored to your business needs, get in contact with our Employment Law Consultancy team today.