Staying on top of changes to Employment Law has never been more important. Our HR legislation update 2022 has a roundup of the key changes affecting UK businesses this spring, with practical advice and guidance from our expert Employment Law team.
HR Legislation Update 2022 | Statutory Payments
With recent legislation updates in April, below is a reminder of the changes to statutory rates and thresholds: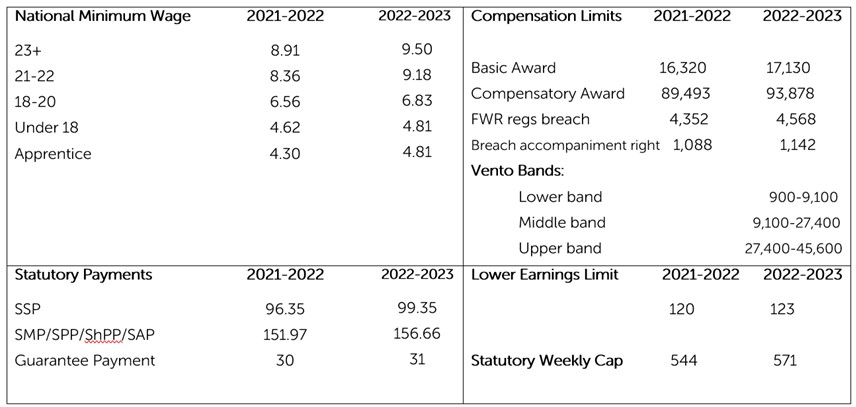 Harpur Trust v Brazel Case
Elsewhere, we are still keeping an eye out for the decision from the Supreme Court on the Harpur Trust v Brazel case. Employers will hope that the appeal is successful, resulting in the re-instatement of the principle of pro-rating statutory holiday entitlement for those employees who do not work all year. As it stands an employee is entitled to 5.6 weeks leave, regardless of how many weeks of the year were worked.
HR Legislation Update 2022 | Employment Bill
The Employment Bill was scheduled for its second reading on 18th March 2022. The bill is likely to incorporate the changes recommend by the Good Work Plan. These included:
The establishment of a new single enforcement agency for employment rights such as rights to SSP and enforcing Tribunal Awards.
Extended redundancy protection for workers on maternity, adoption, and shared parental leave, including extending redundancy protection to six months following a return to work from maternity, adoption, or shared parental leave.
Neonatal leave and pay for parents of babies born prematurely.
Proposed new entitlement to a week's unpaid leave for carers.
New legislation to prevent employers making deductions from tips given by customers to staff.
A new right for casual works to request a more predictable working pattern after 26 weeks service and requiring that workers receive compensation for shifts cancelled at the last minute.
Enhanced flexible working rights.
Extensions of the amount of time needed to break a period of continuous service from one week to four weeks.
New legislation mandating that organisations publish their modern slavery statements on a new government registry.

Don't struggle with HR issues on your own. Get in touch with our Employment Law team today for legal advice about the topics covered in our HR legislation update 2022.