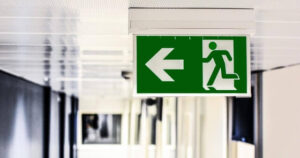 Fire doors are an essential barrier to the effects of a fire, which in turn help you with the safe evacuation from a premises.  They should be of the correct specification (BS 8214:2008), have been correctly installed and are maintained. This year the Fire Door Safety Week campaign is entering its 10th consecutive year.
Stay Safe
The main purpose of Fire Door Safety Week is to raise awareness of the importance of fire doors in protecting life and property. Each year the campaign focuses on its original objectives which are:
"To raise awareness of the critical role of fire doors, drawing attention to specific issues such as poor installation and maintenance.
To engage and educate people, helping the whole building industry and every property owner to understand the correct specification, supply, installation, operation, inspection and maintenance of fire doors.
To encourage building owners and users to check the operation and condition of their fire doors and to report those that aren't satisfactory to their management.
To link together the initiatives of many organisations with common interests in the fire door and passive fire protection industries".
Fire doors play a vital role in protecting life and property and should be installed in all commercial and multi-occupancy buildings and be capable of holding back fire and smoke for at least 30 minutes (i.e., FD-30 rated fire doors).

More often than not fire doors can be found wedged open, then in the event of a fire the fire door would not be able to withhold the fire and smoke thereby exposing occupants to a significant risk of harm. The fire escape route could become compromised leading to persons becoming trapped as the fire and smoke could impede the escape from the building. There may be an occasion where it is not practical to close a fire door and in this case you must either fit a magnetic catch which is automatically released when the fire alarm is activated or alternatively, a battery operated "Dorgard Fire Door Retainer". If you have either a magnetic catch or a "Dorgard Fire Door Retainer" fitted then you must ensure that when the fire alarm sounds as part of your weekly test that the door is able to close automatically and fully shut into the frame without any gaps in excess of 3mm as well as no holes or damage between any double fire doors. In addition, there should be no holes or damage on these doors.

Gaps between double doors, that are in excess of 3mm can allow smoke and fire to penetrate through and hence compromise the fire escape route and preventing persons from safely leaving the property. In such an event, the fire can also cause damage to other areas of the property. The gap between the fire doors can be checked with a £1 coin as this is about 3mm thick.
Practical Fire Safety Guidance
Here at Wirehouse our Health and Safety Consultants are frequently asked "how do I know if a door is a fire door?" Typically, on fire doors there is a certificate stuck to the top of the door stating whether it is an FD30 or an FD60. Without this certification it is difficult to determine if it is a fire door.
However, the fire door should contain a self-closing mechanism and intumescent strip (which are designed to seal up the doors due to the heat from a fire) either around the door or attached to the doorframe. Alternatively, there could be smoke seals around the door or doorframe. In some cases, there are the door viewing panels with fire rated or fire-resistant glass to the standard, BS 6206 (especially in corridors and large rooms). The fire doors are typically about 2.5cm thick and are held by three or more hinges.

It is important that fire escape routes are protected to ensure that occupants vacate the premises quickly and safely. In order to ensure that the smoke and fire are held back check the intumescent strips or smoke seals around the door, check for damaged strips/ seals around the door or around the frame? Also check whether the fire doors close into their frame fully from any position when left to close by itself? As stated above the fire doors should be hung on three hinges or more. There should be no missing or broken screws. If there is any damage to the door, the door fixing or seal then the fire could compromise your safety and the fire safety of others.
Legally you are required to ensure that your fire doors are correctly installed and adequately maintained. Therefore, it is crucial to regularly inspect fire doors to ensure that they meet the legal standards required in the event of a fire. Any issues identified from your checks must be rectified as soon as possible.
5 Step Check to Fire Safety
Fire doors are vital in reducing the spread of fire and smoke therefore, it is crucial to ensure that the fire door complies with UK regulations using the 5 step check as outlined in the Fire Safety Week campaign:
1. Check for the Certification to confirm it is a fire door and the type (e.g., FD-30 or FD-60).
2. Check the Gaps, around the door are not in excess of 3mm.
3. Check the smoke seals or any intumescent strips around the door and/or frame to ensure that they are intact and undamaged.
4. Check that there are at least three hinges with all correct screws and that they are firmly fixed.
5. Check that the door closes into the frame fully when closed from any position by itself (Otherwise, the door(s) need adjusting).
Is your business compliant with current Fire Safety regulations? Get advice from our legally-trained Health and Safety Consultants today.