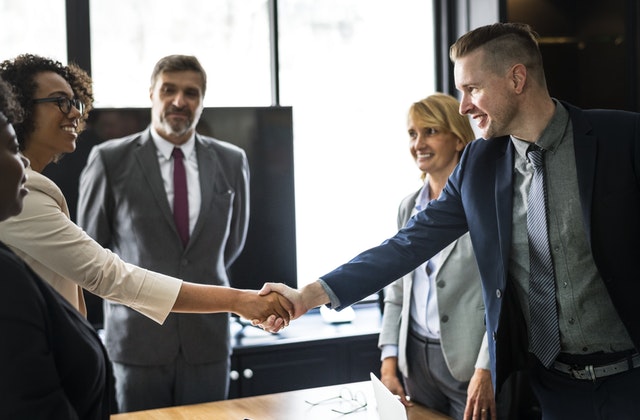 Starting a new job is always a bit daunting & new recruits will usually want to ensure that they make a good first impression on their new boss and colleagues. However, what happens when we switch it around & try to ensure employers are also making a good first impression? Start as you mean to go on and lock in the ability to retain your best staff from day one. This article explores some simple ways in which an organisation can ensure they are portraying themselves in the best light to new starters, from day one. Throwing the usual employment law elements aside for a moment, let's look at the realities of onboarding and a good first day!
So, what can organisations do to make sure a new recruit has the best possible start with them?
Onboarding Policies & Procedures
Even the title sounds boring! If you have heaps of onboarding policies for them to look through, it might be better to send these to them ahead of their start date for them to return on their first day. There's nothing more boring and un-engaging for a new starter than being given a desk with heaps of paperwork to read through. Some are unavoidable though, and as HR experts we definitely aren't advising to push policy reading aside, but having the new recruit sit in a room for hours reading through paperwork doesn't make for an exciting first day. So, think of ways to have the information digested by them without it being onerous, even if it means spacing the policies out across the day or a few days.
One thing organisations sometimes forget to inform people of early doors is the absence reporting procedure. If they're going to be absent or late, they're going to want to know the quickest way of following your procedure & informing someone without feeling anxious that they don't have a contact number / point of call for this.
Tools, Stationary & Equipment
It will go without saying that for some jobs you'll need to supply tools & equipment whether that be specific work boots for health & safety purposes or a laptop / computer / work mobile phone. However, think about any added extras you could give them that would make a good impression but aren't necessarily a requirement; maybe supply a nice notepad and pens for an office-based role, or their own mug / water bottle for refreshment breaks. Something a little different, where budgets permit, will be well received.
Tell Them the Important Stuff
In interviews, when asked why they want the job, applicants might wow you with answers based on heaps of research on the company's background, their 5 year progression plan or precisely what elements of the role they'll enjoy or excel at. However, what employees really want to know on as part of their onboarding process, that they won't want to necessarily jump in and ask you, is;
Where's the best sandwich shop for lunch?
Where are the nearest toilets?
Is there a communal break area?
Where can they make themselves a cup of tea?
When's the next out of work, team get together?
How do they book their annual leave?
Where is the best place to park (if there's no designated car park)?
Try to think of the lighter elements of the role and the parts that promote work life balance & get the new recruit up to speed with the culture of the organisation.
Hands-on Insight
Rather than telling them what every team does when walking them around on their first day, why not let them sit with various departments so they have an insight into other's working days? It will break the day up for the new recruit. Don't make the visits to each department too lengthy though; if it's not the job they'll be doing, they don't need to know the precise ins and outs
Onboarding & Being Prepared
There's nothing worse than feeling like a spare part on a first day; waiting around for the person leading the induction to arrive, waiting around for IT to sort their equipment out etc. so make sure everyone & every thing is on time, ready to get started etc. If they need a car park pass; make life easier for them and have this at the ready straight away, not a week down the line. Don't have them sitting around awkwardly twiddling their thumbs whilst IT hover over their desk trying to start up a dusty old computer that hasn't been switched on in a while.
Make Sure Colleagues are 'in the know'
Prepare the new staff members colleagues beforehand so they know when they are due to arrive for the onboarding session. Make sure the team is engaging & interested in the new applicant and have some conversation starters at the ready, to make the new recruit feel welcome in a friendly environment
Make Them Feel Special
Could you organise a team activity that day (even for just 15 minutes if you have a busy workload); maybe an ice breaker or non-work related Q&A to get to know the new recruit (vet all questions before they're asked in case there are any offensive ones in the mix!) or if you have the time and / or budget, maybe organise a team lunch to celebrate the new recruit and make them feel welcomed.
Onboarding & A Point of Contact
Make sure they have at least one person that they know they can go to for anything and everything that day, when in doubt. Having that one (or more) key person who knows their job is to look after the new recruit & point them in the right direction can help the new recruit feel at ease
Give Them a Day 1 Task
As mentioned previously, first days can be a little dull & there's lots of new information to take in. Giving them a task related to the work they'll be undertaking can help them settle in quicker & make the day more interesting. Think of an 8 hour day sat scanning through policy after policy, clicking around the intranet looking at company information compared with a day where you're already given some purpose, to accomplish something in your role. The latter will make the day go much quicker & be a lot more interesting
Early Finish?
Nothing feels better on a long first day at a new job than being told you can leave early. There's a lot of information & people to take in on a first day so finishing early can be a welcome suggestion & quite refreshing. Don't have them hanging around for the sake of it, just to fill those contractual hours
As always, you can get in touch with us for all things HR and Employment Law related. The above are just a few ideas to boost the morale of the new recruit and set a good first impression in practice. If you need help with the legalities behind recruitment of staff, speak to one of our advisers on the HR Advice Line.